Oct 21st 2017
George W. Bush & GOP lack standing to bash Trump for Racism
George W. Bush gave a speech on Thursday widely interpreted as an attack on Trump in which he deplored the rise of white nationalism and bigotry in the past year. "Bigotry," he lamented, "seems emboldened."
George W. Bush may or may not personally be a nice guy. People used to say he was the sort of person you'd enjoy going for a beer with, and he has had close African-American and Arab friends.
On the other hand, he authorized the CIA to waterboard Khalid Sheikh Mohammad practically to death. And, throughout his public career was complicit with the Republican Party dog whistle of racism and he wouldn't have been president without it.
We can't blame W. for his father's campaign against Michael Dukakis in 1988, when George H. W. Bush's campaign manager, Lee Atwater played the race card. Republican Governor Francis W. Sargent in 1972 had signed into law a furlough program for inmates in prison, and one Willie Horton was let out for a weekend on the program when Michael Dukakis was governor of Massachusetts. Horton committed assault and rape and fled, though a Muslim police officer later shot and apprehended him.
Atwater did up campaign ads trying to tie Dukakis to Horton, and very successfully so. He said, "I'm going to strip the bark off the little bastard and make Willie Horton his running mate." In 2016 mainstream Republican strategists were still talking about using a "Willie Horton" strategy. Atwater used to like to play Chicago blues, but after 1988 African-American musicians often avoided him like the plague. Atwater repented on his death bed and apologized for what he had done.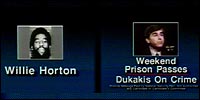 I'm not aware that W. ever criticized his father's campaign for this tactic. It was very racist. I remember the ads. Horton was a disreputable-looking fellow and Atwater paired his photo up with that of Dukakis as though they were jointly on the most wanted list. The racism virtually dripped off the tv screen and pooled on the floor below.
But W. himself also does not have the standing to bash Trump on this issue, most unfortunately. This sad fact diminishes our country. I wish it were otherwise.
Exhibit A is the 2000 Republican primary campaign. Bush was running against Senator John McCain (R-AZ). McCain's wife Cindy had visited an orphanage in Bangladesh and seen a little girl with a cleft palate who badly needed surgery. She and John adopted her and named her Bridget. Although Bridget was not raised Muslim, I think the McCains are particularly sensitive to anti-Muslim bigotry because of having a Bangladeshi in the family, and McCain refused to play the Islamophobia card in his campaign against Barack Obama in 2008.
In 2000, the McCains campaigned in South Carolina with their children, including Bridget. So Bush's mastermind, Karl Rove, came up with the idea of robo-calling voters and calling into talk radio, asking the question, "If you knew McCain had an illegitimate child with a Black woman, would that affect how you felt about him." The Republican Party in South Carolina is solidly white, although the state is 1/3 African-American, and what they were pleased to call 'miscegenation' had been a crime in South Carolina until the late 1960s.
Because people had seen Bridget at the rallies, Rove's smear was widely believed, and it contributed to McCain's loss in the GOP primary. Bush winning South Carolina cemented his standing as a front runner.
No racism and bigotry, no Bush presidency. (McCain handily won South Carolina in 2008 when Rove was not calling the shots any more). Now you could say that Rove was behind all this and W. may not have backed it. But Bush never denounced Rove or dissociated himself from these tactics. The buck stops with him.
I agree with Bush that the poor response to Katrina by Bush and his FEMA was probably largely incompetence and that Kanye West was wrong to call him a racist over it (West has since apologized).
But Bush's tax cuts went overwhelmingly to rich white people, and were designed to make it more difficult for the government to continue its social welfare spending, which benefits African-Americans. Structural racism was a big part of the Bush administration even if that wasn't the lens through which W. himself saw his policies.
Moreover, Bush's FBI wrongly targeted perfectly innocent Muslims, including those at the charity, the Holy Land Foundation, producing some of the biggest travesties of American justice since the end of Jim Crow.
The GOP had been better than most Democrats on race issues in the first half of the twentieth century. But with the passage of the Voting Rights Act and the Nixonian "southern strategy," the party actively sought to become the mouthpiece for angry white men.
Trump is merely the logical conclusion of the Southern strategy, and until the Republican Party comes to terms with its decades of latent racism and its rather loud dog whistle, it will create more and more Trumps. Indeed, with Der Robert Mercer's billions behind him, Der Steve Bannon is planning to oust GOP merely latent mild racists, and replace them with full on Nazis. The party has to decide whether it will acquiesce in this hostile takeover. If it won't, it has to apologize for past racism and develop some other less toxic way of appealing to upper middle class voters.